People of Skydive Cross Keys: Chris Schrier


Jumps to date – 1,973
First Jump – Skydive Cross Keys, 2002
Known on the drop zone as – Schrier
Jump style
Belly flying all the way! Schrier has nothing but respect for the skills and intricacies of all specialties, but he is a belly flyer through and through.  He loves formations, but as Schrier says – his body is too old for anything else.
Favorite Jump
A night time 6-way belly, Schrier's description says it all "The clouds were high, the moon was big and everything was lit up." Sounds perfect to us!
How to find him
Schrier loves helping others; if you need help on the drop zone, he will appear.  If being in dire situations isn't your thing, put on a military uniform; Schrier loves all things military.
Freaky Friday
If Schrier had to switch bodies with anyone on the drop zone for a day he would pick Mandrew (funjumper Andrew Pettolina) because he is "Sooooo STROOOOONG" See below for a very realistic photo of Schrier as Mandrew.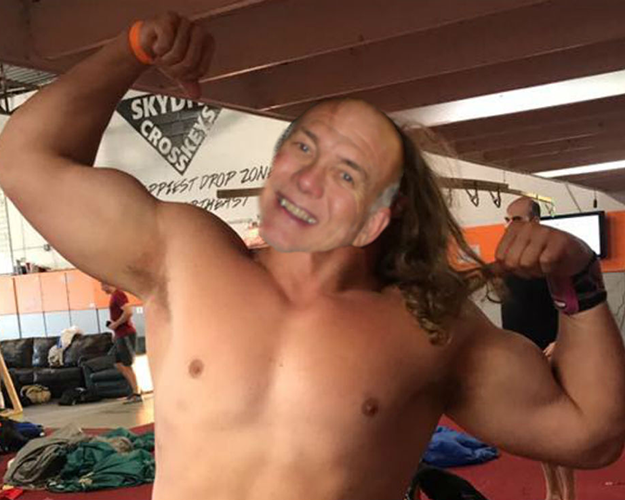 Off of the Dropzone
Schrier works in local government, and has about the same level of interest in it as does Parks & Recreation curmudgeon Ron Swanson.
Skydiving Theme Song
If Schrier had a skydiving theme song, it would be "Let's Dance" by Benny Goodman.  Because nothing says "Let's go jump out of a plane" like a 1930's jazz clarinet.
Advice to new jumpers
"Get yourself out there, do it once, and if you love it, keep jumping. You'll learn amazing skills, join a great sport, and gain a family."
Want to know more?  Come out to visit us and ask him yourself! Bring cake, because it will likely be his birthday. Happy birthday Schrier!