Meet our airplanes: Romeo and Juliet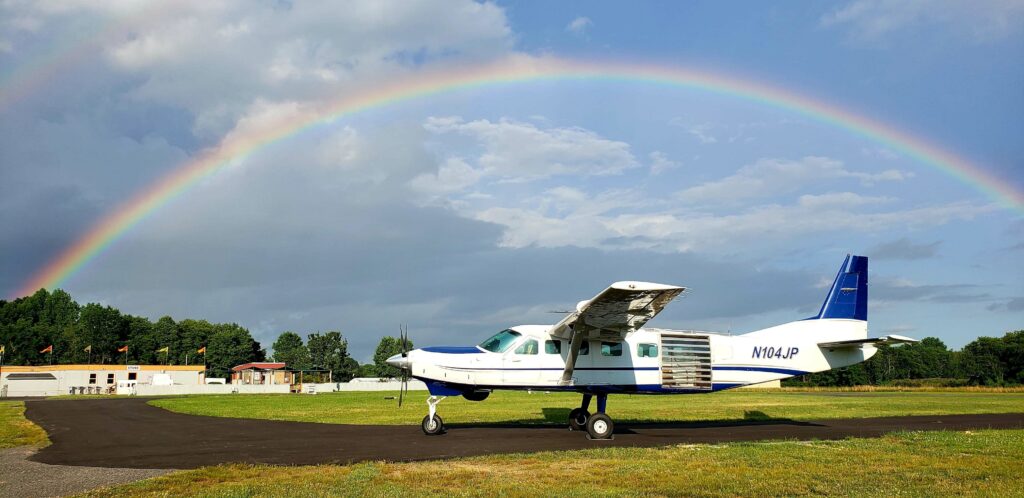 Written by Majo "JD" Bostani
Everyone and everything you will encounter at the dropzone has a story. Even something as seemingly insignificant as a packing tool could've been places and known people you'd never expect. While our airplanes are about as significant as anything could get, Romeo and Juliet have some fascinating stories to tell about their life at the happiest skydiving center in the Northeast!
After meeting your instructor and being geared up for your jump, you will be picked up at our loading area by one of our two Cessna Caravans – Romeo or Juliet. You'll know which one it is by the graphic on the side of the airplane. Romeo is the all-white airplane while Juliet has a blue belly and some blue stripes. Both birds of a feather are extremely fast, loud, energetic, enthusiastic, and most of all, happy to fly! They fit like a glove with the rest of our skydiver community.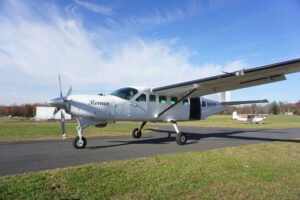 Romeo and Juliet are both Cessna 208B Grand Caravan aircraft, upgraded with the Texas Turbines "Supervan 900" engines. The Honeywell turbine engine equips Romeo and Juliet with 900 shaft horsepower, propelling a load of 18 skydivers to an exit altitude of 13,500 feet in less than 12 minutes. Astounding performance metrics for a single-engine airplane or any turbine skydiving aircraft for that matter! Romeo and Juliet are both equipped with GPS to provide the most accurate exit location planning, ADS-B Out capability to assist air traffic control and are maintained above and beyond the FAA standards. Perfectly good airplanes for sure! But they won't be offended if you jump out of them.
Romeo and Juliet are more than just airplanes to us though. They are airplanes with a humanoid spirit and are part of our skydiving families. Here are some fun facts about Romeo and Juliet.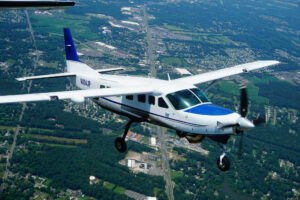 They each have siblings scattered worldwide. 
Romeo and Juliet have a ton of Cessna Caravan siblings scattered throughout all seven continents, performing many different roles for us humans.  Their sibling aircraft from what we know have carried FedEx drivers, yacht captains, photographers, geologists, survey equipment, all kinds of cargo, and even artillery soldiers! These birds of a feather just so happened to meet and fall in love right here at their happy place – Skydive Cross Keys.
They're twin flames in every sense of the term.
A twin flame connection is described as a "mirror soul" and is the most intense soul connection two may have. These airplanes are very similar in personality, have a very deep intrapersonal relationship, and challenge each other to be better. Our pilots claim the two planes' differences to be very subtle and they both enjoy letting each other rest and work on equal terms. While it's not unusual for one to fly thirty loads on a hot weekend in the summer, they are great about splitting the workload on busy weekends. They even fly well together in formation for some of our larger events and state record attempts!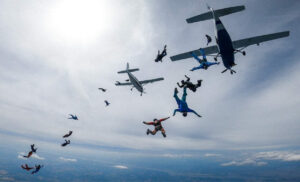 They do not vacation together.
The oddest thing about Romeo and Juliet's relationship is that they do not spend any time away from Cross Keys together. While one of the two flies South for some rest and relaxation during the winter, the other spends time enjoying the snow and cold in New Jersey. Maybe it's their secret to being so cohesively in tune? If these airplanes could speak human, I wonder what lessons they could teach us about life…
Romeo and Juliet love visitors and want to share their love of the sky with you!