People of Skydive Cross Keys: Mike Volk
First Jump: May 2010 Cross Keys
Jumps to date: a little over 1600
Where you will find him: Scheming around the dropzone

Jump style
Mike's new favorite specialty is Angle Flying, he loves the speed and is attracted to the skill it takes for everyone to stay together!
Favorite Jump
Like most skydivers, every jump is Mike's favorite jump.  But when pressed Mike admits his absolute favorite was a 22-way wingsuit in Puerto Rico.  All 22 wing suiters stayed together, flew perfectly, and they all landed on the beach! We love beach jumps!
Off the Drop Zone
When he's not jumping, at his day job, or goofing around you can find him working on his carpentry.  He uses his skills to make new furniture for his house!
Weirdest Skydiving Moment
Mike's weirdest skydiving moment is when he had 2 cutaways in the same weekend both with Cross Keys videographer Taylor Hines.  He blames Taylor.  We find this theory questionable.
Wrestling Theme Song
If Mike were a wrestler, his entrance would be The Ocean by Led Zeppelin. He thinks he would be an evil wrestler because he likes messing with people.  We don't think he's especially evil, but we agree with one thing – he does like to torment other jumpers.  Check out Mike's evil wrestling face: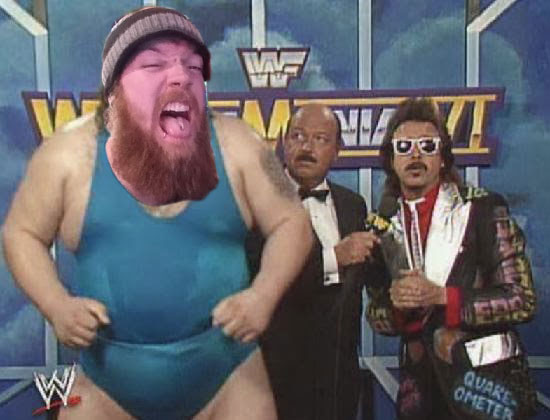 Why he loves being an instructor
Like most instructors, Mike has a true passion for skydiving.  A passion that his loves sharing with anyone who wants to learn.  Mike's favorite thing is seeing students progress and become more confident in their skydiving skills.
Least favorite thing about being an instructor
"Sometimes it can get smelly!" (We have no clue what he's talking about.)
Interview by Lauren Harkins