The Life of a Dropzone Dog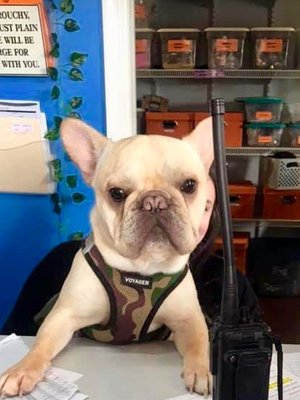 We always get asked what to expect for someone's first jump. To put you at ease we will walk you through the process and introduce you to some of the experts that will help make your experience an unforgettable once in a lifetime event.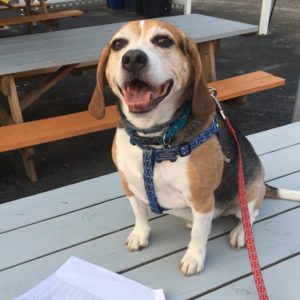 The Greeter
Once you arrive, park, and walk over to our tandem check-in area you will meet our greeter Bruce! Bruce, the beagle, has all the the energy and excitement to get you pumped up for your jump. He'll lead you into the video room to watch a quick video, and get you started on your paperwork! He's got a pretty good eye that he uses for spotting bird and rabbits – and even though he would prefer that – everyone's got to pay the bills. Bruce is more then happy to help you spot all the details in your waiver while making those big bucks for his sick bone collection.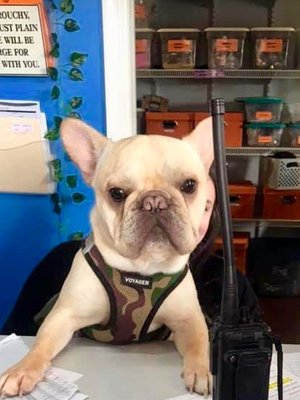 The Manifestor
Once you have filled out the paper work, Bruce will use his superior beagle tracking skills to get you to Manifest, the office of the drop zone. Nate Dogg runs the show in manifest, keeping everyone in line and on schedule. You'll most likely get checked in by one of Nate Dogg's minions while Nate Dogg works his logistical magic to get instructors paired with students, get the planes going and make sure everything is running smoothly. Nate Dogg might not be as peppy as Bruce but he's got the spunk needed to run the ship.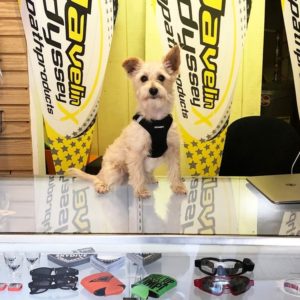 The Store Guy
Once your all set with your paper work you'll have a bit of a waiting period before you get trained up. But that doesn't mean you'll be bored! You can chat it up with Bruce, play some of our lawn games, watch jumpers land or go get some stellar fashion advise from our store guy and resident stylist, Waffles. Waffles will show you all of our coolest t-shirts and accessories so you can share your experience with the world!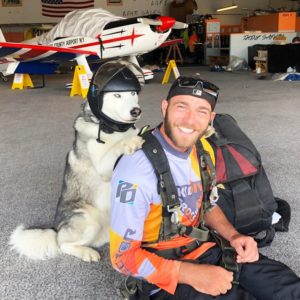 The Tandem Master
After hanging out on the dropzone and getting to know our ground staff, you'll hear your name over our loud speaker and Bruce will direct you to the front of the hangar where one of our Tandem Masters, like Sox, will get you trained, harnessed up, and ready to go. Not only is Sox the coolest (he has ridden a motorcycle across the entire country!) he will also talk you through the entire jump and get you prepared to have one of the craziest moments of your life.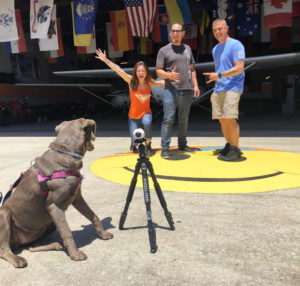 The Videographer
If you made the smart choice and added our video and photo package then you are going to meet one of our very pumped videographers like Molly. Molly will get the most killer photos and video of your entire experience – starting with some pre jump footage. Flying with Molly is pretty cool all around, but the best part is when she gives you her paw in the sky. Molly is a good girl.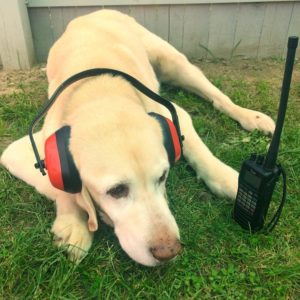 The Loader
After Sox has you all trained up, and Molly recorded your pre jump interview, you will head to the loading area where loader China will be there waiting to help you get on the plane. China is a bit more docile than our other staff members. He loves to relax in the grass before in between work and his contagious calming energy will help you get centered for one of the biggest leaps of your life.

The Pilot
Once on the plane, our pilot Buster will get you up to our jump out altitude of 13,500 feet in no time! Buster tends to look a bit anxious but really he is just itching to get off the ground and back in the sky. Buster loves to fly more than anything else and might be a bit more bird than dog at heart.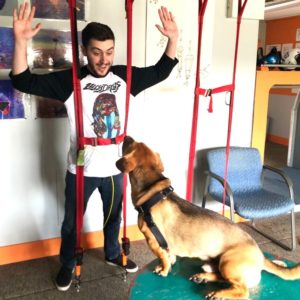 The AFP Instructor
Some tandem students are immediately bitten with the skydiving bug – we get it, it got us too. Join our student program and start learning how to skydive with one our our AFP Instructors like Charlie. Charlie is a patient teacher and will give you all the knowledge and skills you need to get your A-license!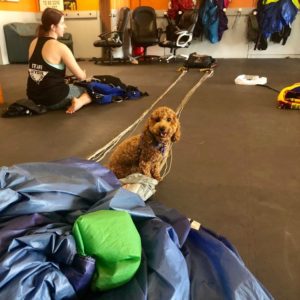 The Packer
If you go through our student program you'll take a packing class with one of our trained professional packers like Velo. Don't let Velo's size full you. Packing parachutes all day is hardwork, and Velo is among the best of them!
Ready to come in and meet our super awesome (and very cuddly!) staff? Book your first jump today!