The closest place for skydiving near Philadelphia!
Looking for "tandem skydiving near me?" Look no further! Skydive Cross Keys is located 15 miles south of Philly and is the closest skydiving center to Philadelphia. We're only 20 minutes away from Walt Whitman Bridge, and just 30 minutes away from downtown Philly!
Skydive Cross Keys is the best – and closest – choice for skydiving in Philadelphia.
Why People Choose Us In Philadelphia
Safety
Our first priority is the thing that's on the top of anyone's mind who decides to make a tandem skydive: safety.
As one of the largest skydiving centers in the Northeast, we make more than 20,000 jumps every year. Our entire staff is USPA-certified and highly-experienced, from our skydiving instructors and pilots to our parachute packers and videographers.
Additionally, all of our aircraft and skydiving gear are routinely inspected and maintained.
Facilities
Philadelphia skydiving of course takes place in the sky, but a lot of your experience will take place on the ground. Having the best end-to-end experience means world-class, comfortable facilities and exciting guest opportunities.
Dropzone amenities include an observation deck to watch landing skydivers, a gift shop, food trucks on the weekends, and free WiFi. We also welcome birthday parties, corporate events, summer camps, and marriage proposals.
Our two Cessna Super Grand Caravans hold 17 people each and carry jumpers to an altitude of 13,500 feet faster than you can say, "let's skydive!" That's a comfy ride to a full 60 seconds of freefall over the City of Brotherly Love!
Skydiving is about more than the jump, and we promise to give you a day you'll never forget. But don't take it from us – check out what our happy customers say! We have more reviews on Google than any other skydiving center in the US.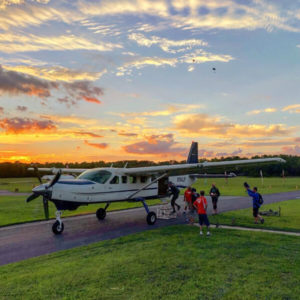 Directions to Skydiving in PA or Near Philadelphia
If you're looking for the perfect place for your tandem skydive, Philly is 30 minutes away and Lancaster is only a 2 hour drive from Skydive Cross Keys.
Turn-by-turn directions from Philly:
Cross the Walt Whitman Bridge
Take the exit towards NJ-42S
Continue on NJ 42-S for about 15 miles
Turn right onto Tuckahoe Rd
Follow Tuckahoe Rd for about 4 miles
Turn right onto Dahlia Ave
Our skydiving center is at the very end of Dahlia Ave!
And for those who don't want to worry about the drive, a taxi or Uber ride from downtown Philadelphia costs between $40 and $60 depending on the time of day. Catching a return ride from our location is easy, too.
Directions from Lancaster, PA
Take US-222 South/Willow Street Pike to PA-272 S in Willow Street; continue on PA-272 South for about 36 miles
Merge onto I-95 North toward New York; keep right at the fork to continue on I-295 North
Follow signs for NJ Turnpike/Delaware Memorial Bridge/NY-NJ
Continue on US-40 East/NJ Turnpike and continue for about 10 miles
Take Exit 2 toward US-322 East; at the traffic circle, take the 2nd exit onto Mullica Hill Road
Continue onto West Street, which turns into Delsea Drive; turn left onto New Street East
Continue onto Glassboro Cross Keys Road; turn right onto Hurffville - Cross Keys Road
Turn right onto Tuckahoe Road; turn right onto Dahlia Avenue; Skydive Cross Keys is at the end of the Dahlia Avenue
Philadelphia Skydiving Prices
Tandem Pricing
How much does it cost to make a tandem skydive? At Skydive Cross Keys, our tandem prices are straightforward and reflect our commitment to customer satisfaction, safety, and state-of-the-art facilities.
Prices vary depending on the day of the week, group size, and discount opportunities.
| Monday-Friday | Saturday-Sunday |
| --- | --- |
| Online reservations starting at $229 | Online reservations starting at $249 |
Video Services
Skydiving is a once-in-a-lifetime experience for many people (and a lifelong love for others!). Adding a video package to your skydive will ensure that you'll be able to cherish the memory of your first skydive for years to come.
For $139, a professional videographer will come along on your jump and film the entire freefall experience. You'll get 100+ photos and a professionally-edited video to take home and share with your friends and family.
Discount Opportunities
Everyone loves saving money! That's why Skydive Cross Keys offers various ways to enjoy discounted tandem skydive rates:
| Type | Details |
| --- | --- |
| Early Bird Discount | Valid for 9am slots Monday-Friday and 8am slots on weekends in the summer season. Cannot be combined with other discounts. Advance booking and prepayment required. Jumpers arriving >15 min late will be charged the difference vs retail rate. |
| Group Discount | 5+ people get $10 off each, valid April 1 - Oct 31. Group rates don't apply when using Military or Student rate, or Early Bird Discount. Advance booking and prepayment required. Use code GROUP. Groups of 10+ email us for rates! |
| Military Discount | $20 off, online only. Valid weekdays in the summer season. Military ID required at check in. Cannot be combined with Group or Early Bird Discount. Advance booking and prepayment required. Use code MILITARY. |
| Student Discount | $20 off, online only. Valid weekdays in the summer season. Student ID required at check in. Cannot be combined with Group or Early Bird Discount. Advance booking and prepayment required. Use code STUDENT. |