Thinking About Tandem Skydiving in NJ?
Skydive Cross Keys is located about 45 miles West of Atlantic City – a quick 40-45 minute drive to the experience of a lifetime! When it comes to making a tandem skydive, NJ is a prime location. Jersey Shore skydiving can't be beat, and Skydive Cross Keys does it best!
We make more than 20,000 jumps every year! We're the largest skydiving center in the Northeast and we've earned more reviews on Google than any other skydiving center in the US. Safety is our absolute number one priority, and fun comes in at a close second!
The Ultimate Vacation Thrill
Atlantic City is full of exciting activities that can easily satisfy even the most adventurous visitors. Finding that perfect "tandem skydiving near me" search result can be a needle in a haystack, especially when you're traveling.
That's why the Skydive Cross Keys location is so convenient for thrill seekers looking to elevate their vacation to the next level. Easy to get to and purpose-built for excitement, Skydive Cross Keys is a mecca of sorts for Jersey Shore skydiving.
But we're not just about fun and adrenaline. Safety is our top priority, so you can rest assured that you won't be compromising the rest of your vacation plans just because you decided to jump out of an airplane.
Group Events
There are a lot of reasons people party in Atlantic City – and Skydive Cross Keys can accommodate them all. Commemorating special moments with a skydive is one of the most exciting ways to celebrate!
Corporate events, birthday parties, summer camps, and even marriage proposals are all right at home at our dropzone. On the topic of marriage, Skydive Cross Keys is a great place for wedding groups out on the town in Atlantic City to enjoy a unique and super memorable experience together.
You can even arrange a themed group jump to celebrate your special event!
Facilities
Skydive Cross Keys facilities are top notch and ready to host all the fun you have planned – whether you plan to jump or to keep your feet planted on terra firma.
Hang out on our spectator deck and watch other skydivers land, or visit the gift shop for a souvenir of your incredible day. Food trucks are on site during the weekends, and we always have free WiFi so you can post about your adventure in real time. (Don't forget to tag us – #skydivecrosskeys)
Our two speedy aircraft – both Cessna Super Grand Caravans – hold 17 people each. We can easily and comfortably accommodate you and your buddies on the same load, and get you to altitude quick! From 13,500 feet, you'll enjoy a mind-blowing 60 seconds of freefall!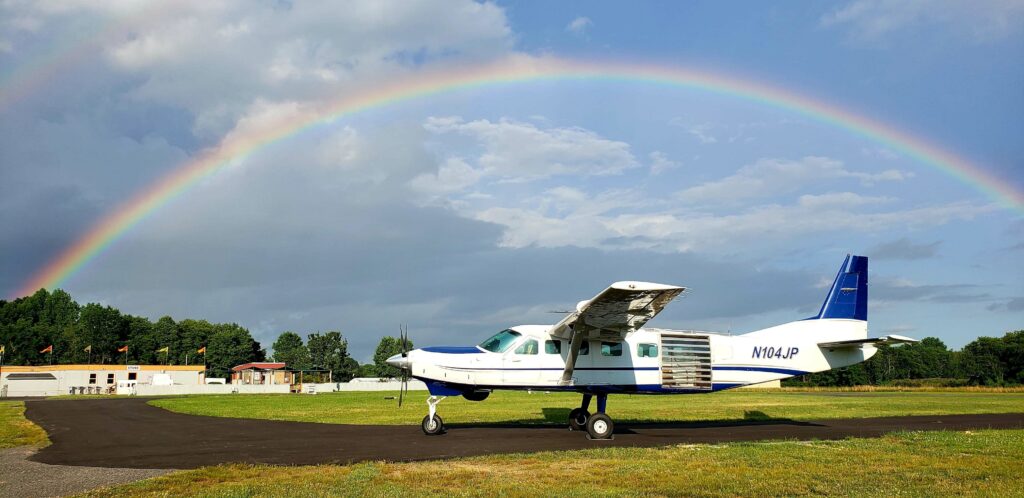 Directions to Skydiving From Atlantic City
Quick and easy turn-by-turn directions from Atlantic City:
We are located at 300 Dahlia Avenue, Williamstown, NJ 08094
Take Atlantic City Expressway West for about 40 miles
Take exit 41 for Berlin Cross Keys Road
Take exit 41 for Berlin Cross Keys Road
Take Cross Keys Road West for about 2 miles
Turn left onto Tuckahoe Road for about 0.7 miles
Turn right onto Dahlia Avenue
Skydive Cross Keys is at the end of the Dahlia Avenue
Or, if you don't want to drive, you can get a taxi or an Uber from Atlantic City to our location for about $90. Divide that between a few friends and enjoy an easy day of sky-high adventure! The bus is even more affordable. For less than $20, the bus will get you to Williamstown from Atlantic City in about an hour and 15 minutes.
Kick Your AC Adventure Up a Notch!
Tandem Skydiving Pricing
Our tandem pricing is easy to follow and leaves one less thing to worry about when planning your day with us.
Prices vary depending on the day of the week, group size, and other discounts.
| Monday-Friday | Saturday-Sunday |
| --- | --- |
| Online reservations starting at $229 | Online reservations starting at $249 |
Video Services
Adding a video package to your skydiving experience will make it even more memorable. There's a lot to process when skydiving for the first time; your tandem can feel over in a flash! Relive the life-changing experience of jumping out of an airplane, freefalling over America's Playground, peacefully soaring under a parachute, and your victory dance on landing.
For $139, a professional videographer will join you on your jump and film your entire skydiving experience. You'll get 100+ photos and a professionally-edited video.
Discount Opportunities
Skydive Cross Keys offers various ways to enjoy discounted tandem skydive rates so that you can save your money for other Atlantic City shenanigans!
| Type | Details |
| --- | --- |
| Early Bird Discount | Valid for 9am slots Monday-Friday and 8am slots on weekends in the summer season. Cannot be combined with other discounts. Advance booking and prepayment required. Jumpers arriving >15 min late will be charged the difference vs retail rate. |
| Group Discount | 5+ people get $10 off each, valid April 1 - Oct 31. Group rates don't apply when using Military or Student rate, or Early Bird Discount. Advance booking and prepayment required. Use code GROUP. Groups of 10+ email us for rates! |
| Military Discount | $20 off, online only. Valid weekdays in the summer season. Military ID required at check in. Cannot be combined with Group or Early Bird Discount. Advance booking and prepayment required. Use code MILITARY. |
| Student Discount | $20 off, online only. Valid weekdays in the summer season. Student ID required at check in. Cannot be combined with Group or Early Bird Discount. Advance booking and prepayment required. Use code STUDENT. |