How To Prepare For Skydiving: 8 Tips
Deciding to take your first skydive is a huge step. Taking a little extra effort in planning your first skydive can ensure an amazing and life-changing adventure!
You want to find the right skydiving center near you – known in the industry as a dropzone or DZ – that has a good safety record, great customer service and strictly adheres to all safety related regulations. How do you check for all that, you ask? Research. Read on for 8 tips on how to prepare for skydiving.
1. Is The Dropzone Legit?
First, you want to make sure you're dealing with a real dropzone and not a third party reseller. Not all resellers are bad, but there is a good chance they would charge you more than a dropzone directly.
Many resellers will also claim that you can skydive right "in" your city, and have an address right there on Main Street. Be suspicious: you know that skydiving only happens at airports, and those are usually located outside cities. Many third party booking agents won't even tell you where exactly you will have to go for your skydive until you pay for it! No bueno.
Also be careful if a skydiving website doesn't have an address at all – this means they're just a call center that will charge you more and send you to a place that's good for them, but not necessarily for you.

2. Does The DZ Follow The Rules?
Once you know you're dealing with a real dropzone, check if it is a member of the United States Parachute Association (USPA). The USPA focuses on promoting safe skydiving through training, licensing and instructor qualification programs.
To be fair, just because a dropzone does not have USPA certification does not automatically make it less safe. However, all USPA member dropzones are required to follow the USPA safety requirements; use only USPA rated instructors; and provide USPA required equipment.
If the dropzone's website doesn't note USPA-membership on the homepage, use this handy dropzone locator courtesy of USPA to find member organizations near you.
3. Read Skydiving Reviews.
You may decide ahead of time that your first skydive will be your only skydive; a once-in-a-lifetime experience. Make sure to pick a place where people are truly passionate about what they do and care about giving you the time of your life.
Most dropzones are intentional about hiring tandem instructors who love their sport and enjoy their jobs. But then there are those that care more about sales and pushing as many people as possible through the door than the quality of the experience. This tends to happen most with third-party resellers and other discounted channels that need high volume just to stay afloat, but don't have the means to invest in a great first skydive experience.
So, make sure to check customer reviews on Google, Facebook and Yelp. If you're not convinced, give the dropzone a call to chat with their staff or, if you're close by, go check it out! While you're there, ask for a tour. You can see the airplanes and facilities all while getting a sense of the level of care the business puts towards their customers.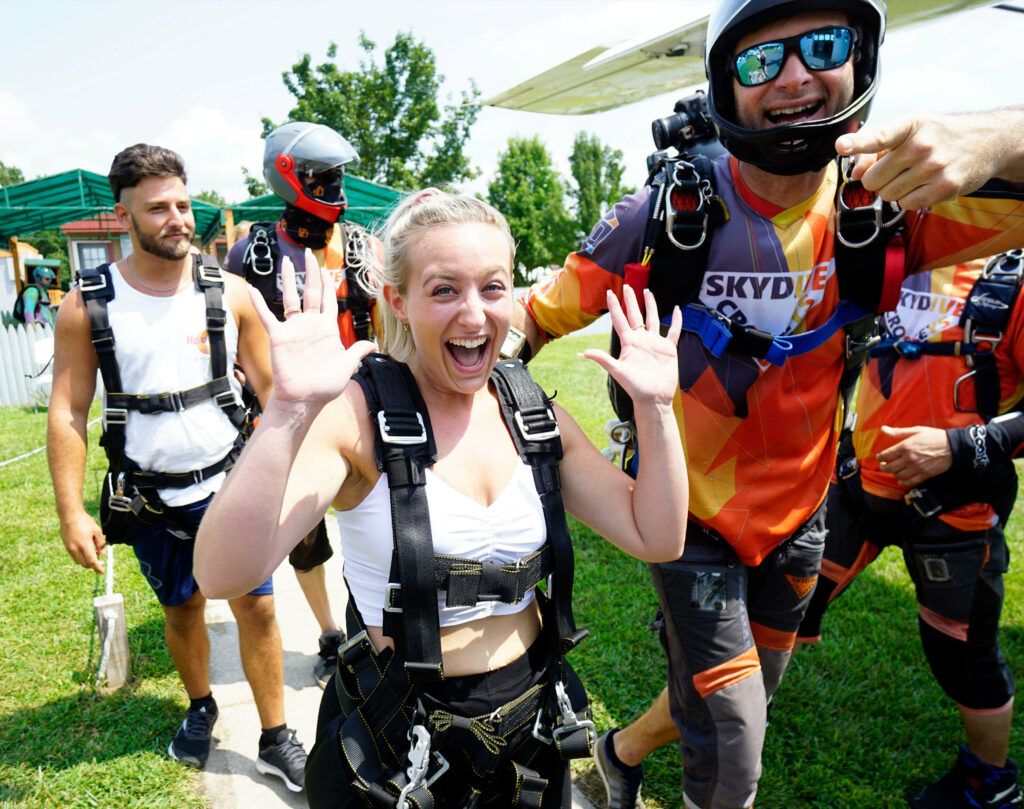 4. Capture Your First Skydive with Photos & Video!
Found a real-life, USPA-member dropzone with exuberant and helpful staff? Awesome. It's time to book your jump!
Consider this advice to make your first skydive extra memorable. The jump itself matters just as much as the memories you're going to have about it for the rest of your life. Every experienced skydiver will tell you that investing in professional photos and video of your very first skydive is one of the best decisions you can make. Your first skydive is awe-inspiring and, by default, comess with sensory overload. Looking back at the photos and video will help you relive every moment of your first jump! And trust and believe: you'll want to!
Plus, you get to show your friends how bold and brazen you are! (When you post your best day ever, don't forget to tag us – we're @skydive_cross_keys on Insta and @skydivecrosskeys on Facebook!)
5. Start Prepping for Your Skydive The Night Before.
Let's fast forward to the night before your jump. Save the party for after your land, and rest up! You'll want to be as awake and aware as possible, so drink lots of water and get a good night's rest. You'll wake up refreshed and ready to jump out of a plane from 13,500 feet, and you will be all set to celebrate your jump after!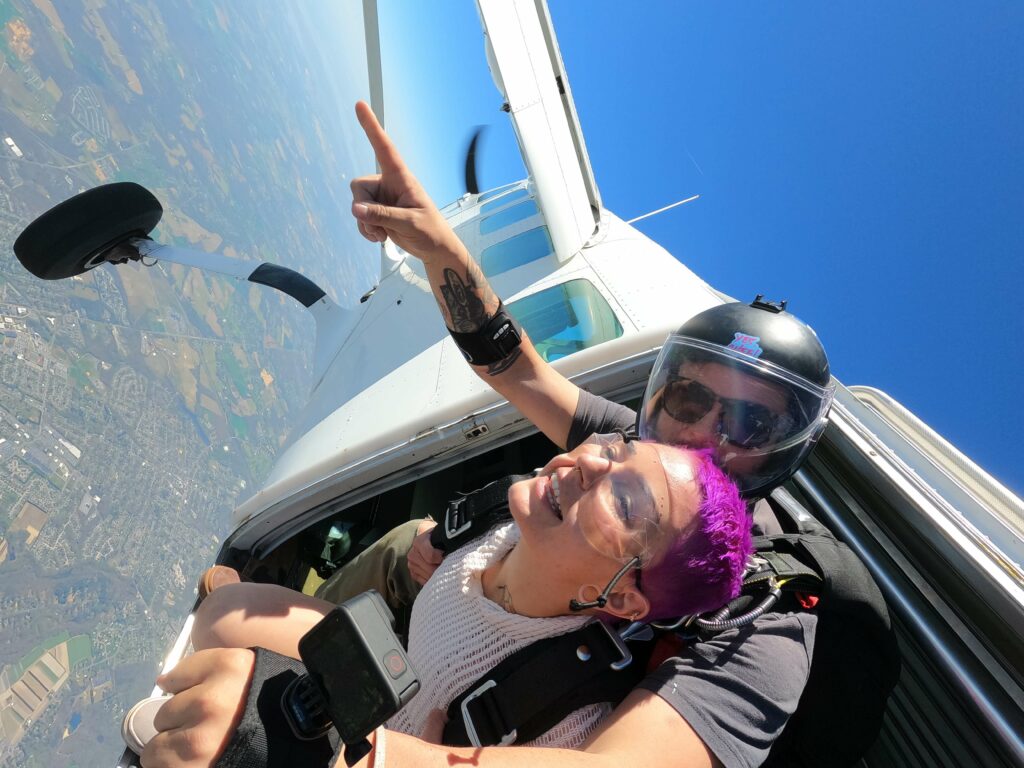 6. Eat Like A Champ Before You Jump!
We don't recommend jumping on an empty stomach. You are preparing your body for a completely new experience and you want to make sure it is in tip-top condition. Eat a healthy, moderate-sized meal before you jump. This will make your body and brain happy, relaxed, and ready to go!
7. Dress For Skydiving Success!
Always wear sneakers and make sure they're tight enough so that the wind doesn't take them right off. Sandals, heels, boots and cleats are not permitted.
Wear close-fitting clothing you feel comfortable in and pay attention to the weather! Athletic clothing is best. If it's cold, wear long sleeves and pants and think about adding extra layers. It's always a little colder in the sky than it is on the ground. In hot weather, wear a T-shirt and shorts that provide good coverage so the tandem harness sits comfortably around your legs.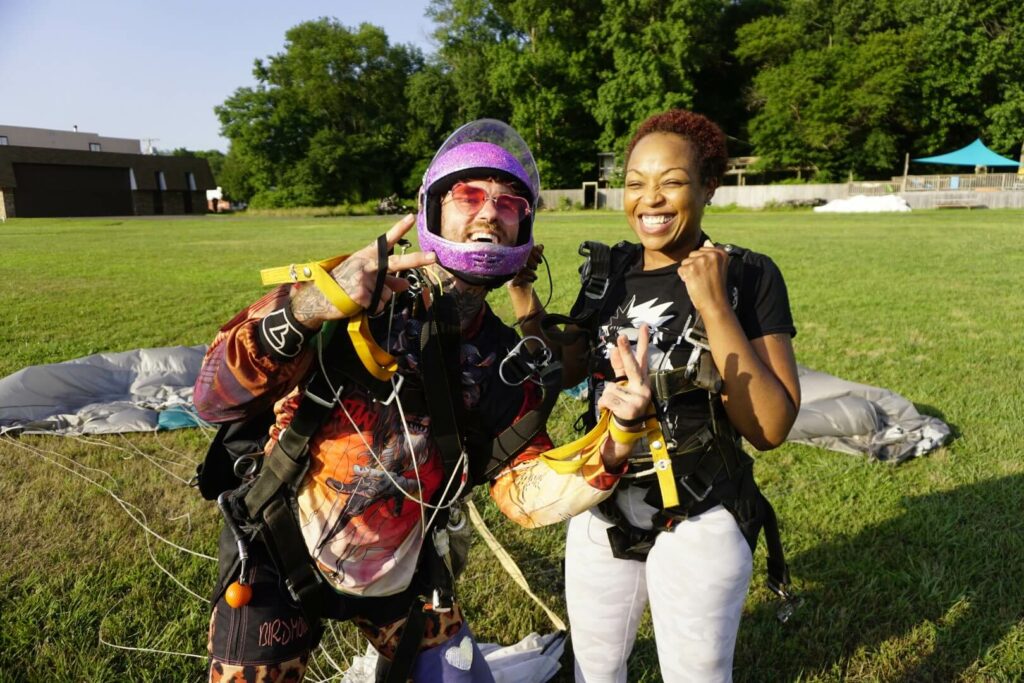 8. Remember, The Dropzone Staff Is There To Help!
You did your research to find a professional dropzone with enthusiastic and friendly staff, so use that knowledge to your advantage! If you're nervous about making your first skydive, have questions, or just want a high five to get you amped up, the dropzone staff will be there for you.
As you know by now, making an incredible first skydive memory isn't just about the jump itself. Every part of your time at the dropzone – on the ground and in the air – is important and adds to your experience. A great dropzone knows that too! The DZ team will be there for you from the time you arrive to the time you leave, so feel free to hang out with them, ask questions, and make the most out of your time at the dropzone.
Now you know how to prepare for skydiving, get ready for an epic adventure!
Written by Lauren Harkins