Jump to fly: Our pilot's first skydive
June 12, 2020 was one of the most memorable days of my life! What started out as an ordinary beautiful Friday as an airport hang-around pilot challenged my understanding of the word "ordinary" in a beautiful way.
Prior to this article, I had just obtained my Commercial Pilot's Certificate mid-February and was just spending my COVID-19 quarantine induced airport-bum era on the airport. I had been a regular at Cross Keys for about three years at the time and had long expressed interest in "flying cool things". That day, my "cool things" were a few loads of jumpers I got to fly along with the dropzone pilot.
That was exciting in itself… However, what happened next was completely spontaneous and I regret no part of it!
I manifested myself for my first tandem on a sunset load! In a few manifest keystrokes, my name was on the manifest board with Mike Volk as my tandem instructor and Art Leroy as my videographer. I then nervously watched the Bill Booth tandem training video, spent twenty minutes harnessing and training with Mike and it was time for my video interview. I'd known Art for the entirety of my tenure at Cross Keys and I don't think he had seen me as lost for words before!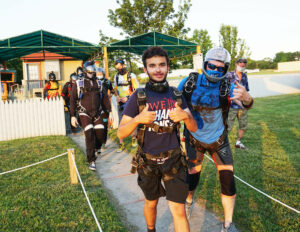 It was time to sit in the back of the plane I had just been flying. After taking off, I had become a nervous passenger for the first time in my flying career. Not because of another pilot's flying, but because of what was about to happen next.
The airplane let out a "hop-n-pop" (a jumper at 5,000′ altitude for canopy piloting training) and listening to the wind catch the solo skydiver was utterly nerve-racking to me. A reminder of what was in store for me in a few minutes. Mike, Art, and Ashley spoke to me on the way up from this to occupy my mind, and before I knew it, the door was open, and I had experienced that same sound when Ashley's freefly group of three exited the airplane.
My turn!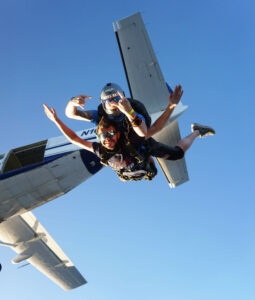 Mike flipped the goggles onto my face as we were walking to the door, to prevent them from fogging. Art climbed out in front of us, and this is when I was at peak adrenaline. I was jittery anticipating the exit, but figured, I made it up here, "let's show the world how it's done" like a wise man named Art always says. I see Art's legs leave the camera step and before I knew it, I was flying!
Once I stepped out of the door, I saw what it was all about! It did not feel like falling at all! It felt like a windy layout on an air mattress with some awesome sunset views of Philadelphia, Atlantic City, and even New York City!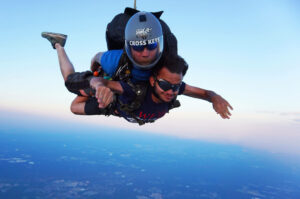 I docked onto Art, and we were just up there enjoying every second of the minute of freefall each tandem gets. At opening altitude, Art broke off, Mike waved off and deployed the huge tandem canopy over our heads. I forgot what exactly I had said, but it was along the lines of "oh, that was so cool!" Mike handed me the toggles and I was in control of the canopy up until we were up to land. I watched the pilot grease the landing onto the runway and Art make an awesome swoop and figured it's time to do the same.
Mike and I slid our landing in and I had just grown a new passion and appreciation for the sport. I am so happy to work in such a life-changing environment and get to be a part of making other people's days just like all my awesome coworkers did to me.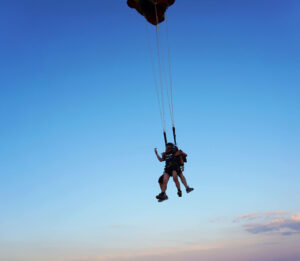 Here are a few tips that I have as someone that is now hooked on exploration of the sport:
Get video! Get video! GET VIDEO!
Seriously, I can't say that enough. Not only does it make something fun to show your friends but it's quite awesome to see yourself going through the psychological roller coaster so many enjoy in the sport of skydiving. I loved looking back and seeing how I changed from nervous to just pure, organic happy and euphoric!
Relax and enjoy the ride.
The purpose of your first tandem is to be a life-changing experience. There is no pressure to learn all you can from it, which is why there is a training program should you choose to pursue learning to skydive. Just remember to arch, keep your hands on the harness until your tapped, and keep your head up!
If you love it, learn it!
Skydiving is fun! While learning it may not be for everybody, if you feel like it is for you, sign up for your second tandem! Before you know it, you will have completed three tandems, a ground school, and will be ready to take on our AFF program and be ready for your A license at 25 jumps here at Skydive Cross Keys.
Write your own story! Come see what skydiving is all about any day is this summer. Maybe it's the avenue to find your new passion.
Written by Majo "JD" Bostani