People of Skydive Cross Keys: Jimmy Hutfles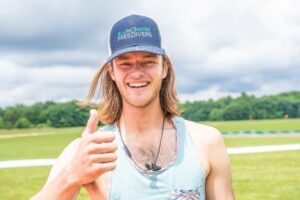 First Skydive – End of 2016 on Amelia Island, FL
Jump Numbers – 2700+
How To Find Him – He's Always Here!
CAN A SPONTANEOUS IDEA CHANGE YOUR LIFE?
Jimmy's skydiving career started at the end of 2016, where he found a Groupon for a tandem skydive on vacation in Amelia Island, Florida. He remembered the overwhelming feeling of being packed onto a tiny Cessna 182 jump plane, not remembering any of the freefall, but being hooked after his instructor handed him the toggles. He said that it was the most fun thing he had done up until the next jump. And the cycle continues to this day!
Jimmy knew he wanted to take up skydiving as a hobby right when his feet skimmed the ground. Being a college student at the time, Jimmy got a job at LA Fitness to save money for his new hobby, turned career. He completed the AFF program at Skydive Palatka and made every effort to nerd out about his new sport, doing anything he could to immerse himself in knowledge.
AN ENGINEER TURNED PRO SKYDIVER
Jimmy is very technically talented; a skill that translated excellently throughout his skydiving progression. Before taking up professional skydiving instruction, Jimmy went to engineering school at University of Florida before transferring to University of North Florida. In the short span of time between college and now, he used to work at Northrop Grumman as a structural engineer on the Grumman E-2D Hawkeye military reconnaissance aircraft. In the meantime, Jimmy also worked doing tandems and video at Skydive Palatka making side change on the weekends, until he went full-time here at Skydive Cross Keys!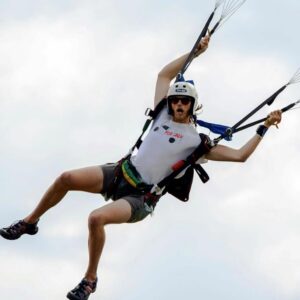 JUMPSTYLE
Jimmy is a skydiving nerd! He loves immersing himself into anything that challenges him to learn. That is the mentality that got him through engineering school and the driving force behind his skydiving progression. Right now, Jimmy loves freeflying and canopy piloting. So much so that he began competing in Florida Canopy Piloting Association swoop meets this year, placing number 8 of 25 competitors in his first competition! But Jimmy holds that it is not about winning as much as it is about learning.
WORLD FAMOUS
Jimmy is the slip 'n slide freestyle master! At our 4th of July boogie, he successfully made headlines swooping onto a slip 'n' slide, disconnecting his main canopy, and
sliding how ever far his reserve canopy would let him. It made for some epic photos and is Jimmy's current minute freefall of fame!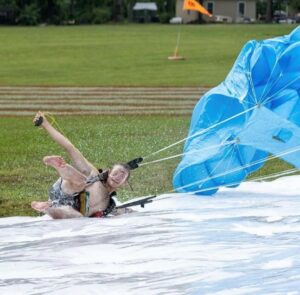 WHAT HE LOVES ABOUT CROSS KEYS
Jimmy loves the fostering community here, and the effort Cross Keys makes to go beyond tandem jumps and provide opportunities for skydivers to excel in their sports. Jimmy appreciates the effort the community makes to invite load organizers of different expertise to share their knowledge with our locals. He has also recently taken bounds as a skill camp organizer, helping set up Angle Wednesdays and Swoop Club Thursdays for our newer jumpers to learn two of his favorite disciplines: Angle Flying and Canopy Piloting.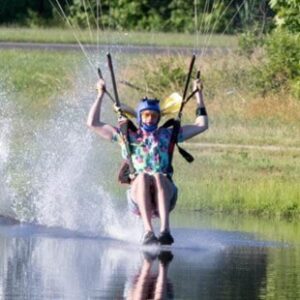 SKYDIVING IS FUN!
Jimmy stresses that the goal in skydiving is to have fun! Sure, you can learn how ever much you want as a skydiver. But the important part (well, besides safety of course) is to have fun!
Come meet Jimmy at Skydive Cross Keys, he is literally here every day!
Written by Majo Bostani